I am a citizen
of this country
Interview with Manana Shevardnadze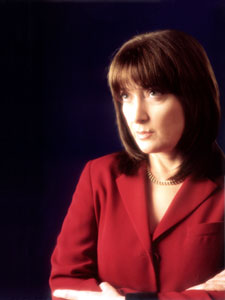 Let me ask point-blank: Is it difficult to be the President's daughter?
I would phrase the question somewhat differently – Is it difficult to be Shevardnadze's daughter?
All my conscious life, as long as my memory can stretch, I have never been Manana Shevardnadze, but Shevardnadze's daughter and, needless to say, this has not been easy at all. For my brother and me the teenage years were particularly difficult. This was the period of our formation as individuals and craving for self-assertion. Despite the age difference, we have always been friends and we would share this emotional experience with each other. Many years later, when Paata and I both reached a mature age, he told me: "Every person possesses some wealth of his own: some people own property, others are proud of their descent… For us, our father is our wealth – all that this man has achieved by his life and work. This is what we must be proud of." Suddenly I realized that Paata was right. There was no need in dramatizing all of this, because being Shevardnadze's daughter is a great responsibility and a great privilege at the same time.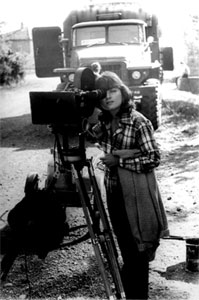 Have you ever experienced a sense of protest? Have you tried to escape from this influence?
Although I was a quiet and obedient child, I did have a sense of internal protest. But what could I do? There was our father's cult at home (in the good sense of the word, of course). Despite the fact that he was very busy and we spent very little time with him, we had infinite love and admiration for him. And the same is true today. As for escaping, perhaps my early marriage was an attempt to do so. I really wanted to be free, to be on my own.
Were your parents strict with you?
In the classical sense, father has never been a strict parent, whereas our mother, on the contrary, always required of us order in everything and demanded that we study hard. At the same time, my mother has always been and is my best friend and my role model of a "contemporary" woman. Her profession too has always attracted me and since childhood I have wanted to be a journalist.
It was not our parents, but the "out of the ordinary" way of life that proved to be the toughest of all. Paata and I tried our best to be as "ordinary" as possible but we couldn't quite succeed.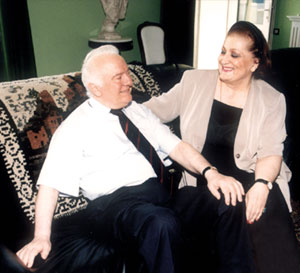 Let's leave at that the forced necessities caused by this "out of the ordinary" way of life and speak about the Shevardnadze family in simple and humane terms.
I think, it is a very relevant and extremely painful topic. If everyone, be it a journalist or someone from the opposition, ever pondered over the fact that Shevardnadze is a human being who has a family, a spouse, children, grandchildren, and a great many supporters - then, probably, there would be less abuse, calumny and gossip. They would realize that reading a certain article or watching a program, such injustice would hurt the feelings of his children, wife or a friend. I believe that if this were the case, then everything would be in its proper place. Yet today the situation in Georgia in this respect is extremely grave. Just leaving aside the fact that he is my father, do you think it is normal that the President of the country is being constantly abused, regardless of the consequences?! Criticism is something very different and should be expressed by means of a reasonable and sound opinion and counter argument. The black PR against the President and his family has flooded our mass media. It goes beyond any limit and is becoming unbearable. Every day, I expect some "breaking news" to appear about myself, my brother, my mother, my father and my husband and this "news" is usually negative, biased and insulting. I can not remember (with the exception of one or two media sources) anything positive being published about our family over the recent period. Shouldn't an ordinary citizen be interested in finding out the reason for this?
It is indeed a very dangerous trend - biased opinions are being deliberately spread together with the propagation of lies and gossip to benefit the interests of certain groups. The lack of culture and provincialism are gaining a foothold and even more – this is real terror!
I am a citizen of this country and I love my home!
Why should my countrymen regard me as a liar and a money-grubber?!
I have spent all my life in a very honest family and I was raised in this spirit. The same is true of Gia's family. Honesty has always been and remains the wealth and the most important spiritual value for me.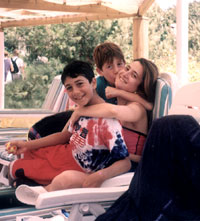 That is why I live with pain in my heart and under a constant stress. I do understand that some political forces could be behind a certain newspaper or a TV channel. The demonstration of one's own interests, however, also has a moral side and a culture of its own. Is it so very difficult to learn how to express one's interests in a civilized manner?!
I really don't know how to protect myself from all these things. I do know, however, that I will never be able to betray my upbringing, the moral principles and respond to all the slanderous attacks. I am not thinking only of my family and my father. I am more concerned about the future of my country, if such methods and style of opposition and "struggle" prevail here!
I may be wrong, but it seems to me that you've had much more difficult times in your life. I mean, the years 1989, 1990 and 1991, when you remained all alone in Tbilisi and the attitude of the authorities then must have been far from favourable?
I could have left the country and lived in fairly good conditions elsewhere. I was offered work at one of Moscow's studios. I could not understand, however, why I should go to Russia and, more importantly, a sense of protest was rising in me. Why should I leave, isn't it my homeland? I have my favourite job and my own place here. That is why, despite my family's request, I traveled neither to Moscow nor to my brother in Paris. I found it impossible and it might even appear paradoxical, but I felt myself freer than ever during that very period – I was my own self! I knew who was a friend and who was a foe!
I experienced no suppression during the period of Gamsakhurdia's authority. On the contrary, I was even told not to fear and to let them know if I needed something. Isn't that a very chivalrous gesture! In a word, psychologically, I felt better…

It appears that today you are experiencing a certain discomfort. How do you manage to "fend off" such "excessive" attention? Where do you find peace?
It is not only now that I've been upset and irritated by excessive attention. It's always been this way. I feel myself most comfortable at home, together with Gia.
As the saying in one Russian movie goes, it is possible to start life anew at the age of forty. And I turned out to be lucky. Even though Gia is a person with an absolutely different character and style from mine, we live in complete harmony. We have created a world where we complement each other and we often work on the same project, be it the charity work, publishing or something else.
We are fortunate that our children, my Tamuna and Gia's Andro and Irakli, are so fond of one another and are great friends.
You started to work at the TV film studio at a very young age…
I was working at the music editorial office of the "Khelovneba" publishing house and it was by chance that I began to work for television following the advice of my teacher, Evgeni Machavariani. The first serious documentary that I took part in was Soso Chkhaidze's "Shvidkatsa" (unfortunately, the director was unable to finish this unique film). The days spent in Guria, communicating with the elderly Gurian singers have left indelible memories. And I became completely absorbed by the cinema…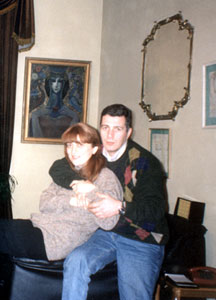 And today you are the director of the Georgian Telefilm company…
As I already mentioned, I was very young when I came to work at the Georgian Telefilm. It was here, among the wonderful team of people that I developed as a professional. And yet to me the appointment was unexpected. Back in 1994, when chaos and violence reigned all over the country, it was the opinion of the staff working at the studio that I was the very person capable of saving the Georgian Telefilm from total collapse.
After my appointment as the director, my first concern was to reunite the divided studio and eliminate confrontation among the different groups of employees - the task that, I think, I succeeded to accomplish.
Under the Soviet system, the Georgian Telefilm received centralized funding. We were supplied with expensive films and chemicals free of charge and the annual output of the studio was 24 hours of film production. Obviously, since the early nineties, all these supplies have been discontinued. What were we supposed to do? We had to keep working, for if the creative process stopped, the studio would be inevitably closed down. We made a certain professional compromise and substituted a professional camera for an amateur video camera. This step caused protest among the producers and cameramen, but we had no other option. We shot movies and edited in a primitive manner. Thus, step-by-step we advanced to a more modern video production.
Today, we have the state of the art professional video equipment. True, our annual 24-hour output dropped to eight hours, but we have managed to survive and have not shared the sad fate of many other studios and creative associations. A large share of cinema production in Georgia in the recent years has been made by the Georgian Telefilm company.
Despite scarce financing, the staff has not lost enthusiasm and devotion to work. Owing to this, the small-budget video films that we create are distinguished by professionalism and high artistic value.
Being a musical expert by profession and having worked all my life in the cinema business, I have now became a producer. I pursue this occupation predominantly at the Neostudio which is a small "oasis" of mine. We are only seven people working at the studio, but our friendship and professional approach to our work helps us a great deal in creating the material that meets high contemporary standards. Neostudio makes video commercials, documentaries and is actively engaged in publishing business.
At the end of the interview, the respondents usually speak about the future. Let's break this tradition today. Looking back at the ten years of independence, what is your assessment of the present-day Georgia? Today our country is at a crucial stage of its development. Its proper assessment and identification of the main reference-points will be crucial for the future.
It is a fact that today life in Georgia is difficult and people suffer great hardship. But let us look at it from a different angle. Haven't the hardships receded compared to the past years? Aren't there more opportunities for our citizens to find jobs and support their families? One cannot fail to see all these. Likewise, it is impossible not to see how the cultural life has recovered. Look how many theatre premieres and concerts are held in Tbilisi. Not a single week will go by without a new exhibition of Georgian artists. Compare all this to the situation seven or eight years ago. Remember the time when the streets in Tbilisi were all deserted with the falling of dusk. The situation is drastically different today.
And still, the country is struggling to overcome the crisis and is facing the problems on which its very survival hinges. In my view, the main reason for this is that fundamental changes in the mentality of our society have not yet occurred. We have not yet fully realized that we must assume the ultimate responsibility for te well-being of our country and our families, and if something is wrong, the fault is also ours. Only one person is blamed for everything that goes wrong in Georgia today. The responsibility of only one person is only emphasized. And nearly every contribution of this person and all the services that he has rendered to his country are being ignored. The people must realize that this helps create perfect conditions for those irresponsible individuals who keep misleading the people, accusing the Head of the State of all the failures and thus covering up their crimes. Such persons use every opportunity to manipulate public opinion to their advantage and in their own interests.
That is why I think that the disorientation and disintegration of public opinion is the major problem of today. This is what we must overcome in the first place and learn to think together about the common cause, to take care of our great family, our country together and this is where the media should also make its contribution. Otherwise, we will be simply unable to determine correctly the future course to pursue and will again waste such valuable time in mutual accusations and in search of a scapegoat.
15.02.2002.