MOBILE TELECOMMUNICATION IS SAFE
The maximum acceptable
level of the intensity of
electromagnetic flux
is 40 times less in
Georgia than in the
European Union
Mobile phones are used by everybody and everywhere: people of all ages and ranks, in and out of town. The mobile is often the only means to ask for help and to let friends and relatives hear from you. So, there is apparently no need to question whether we need mobile communication with its
expanding network at all.
However, such question exists and we will try to give an answer as exhaustive as possible.
This became necessary because of the expressions of concern and actions of protest on the part of the population in response to the construction of new sites and installation of antennas by mobile communication companies. It is a paradox, but permanent subscribers of our network, whose success in many respects depends on proper and high-quality operation of the cellular network, often take an active part in such actions of protest.
Let us take Switzerland as an example for comparison purposes, as the likeness of its landscape with Georgia determines many similarities in the development and expansion of cellular communications in these two countries. Switzerland is considered a model country in Europe in terms of the environmental and public health protection. One example of this is that Swiss woods are regularly cleared of plant residue, which is burnt and returned back in the form of ash to fertilize the soil. And in such a country the acceptable maximum level of public exposure to electromagnetic oscillation is 40 times more than the norms stipulated by the Georgian law. Still, nobody there protests the expansion and development of mobile communications, because the Swiss are well aware of the type and intensity of oscillation hazardous for their health, while here the population is largely ignorant of such questions.
We can assume that the main reason for this lack of awareness is the scarcity of competent, well-documented information concerning the essence of cellular communication, the peculiarities of network design, safety of operation, effective sanitary norms and the work done by official or alternative control authorities.
This letter is an effort to fill up this gap, and to provide general public with objective information. First of all, we need to differentiate between radio frequency and electromagnetic oscillations:
1. Radioactive or ionizing oscillation includes: ultra-violet rays, X-rays, and gamma rays widely used in medicine (X-ray diagnostics, X-ray therapy) and industry (sterilization with the use of ultra-violet and gamma-rays, etc).
2. Electromagnetic field is characteristic of the human habitat. There are natural and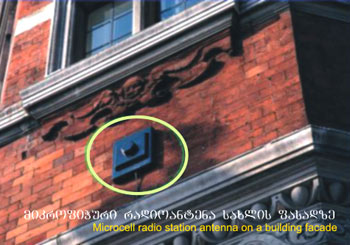 artificial sources of electromagnetic field. Some natural sources are terrestrial electric and magnetic fields, radio waves of celestial bodies, and atmospheric phenomena (lightning, ionospheric variations). Even a human being is a source of a weak electromagnetic field (due to bioelectric impulses that form part of the bio-field).
Artificial sources of electromagnetic field are divided into two groups:
- equipment creating electromagnetic field: radio and TV broadcasting stations, various systems of radio communication, ultra-sonographic, physical and laser
therapy instruments, technological equipment at industrial facilities;
- equipment using electric power, resulting in the spurious generation of electromagnetic fields. These are transmission and distribution lines, transformers, microwave ovens, TV-sets, refrigerators, etc.
There we will deal with the cellular communications system as the source of electromagnetic fields. The operation of cellular wireless communication is based on the aerial division of territory. Those areas are called "cells" with radio stations in the center. The stations are called base stations. Base stations connect mobile phones with the main switching center. Cells can be of three types: macrocells, microcells and picocells, depending upon their size and the antenna capacity.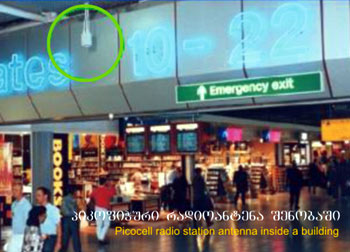 The macrocell radius ranges between 0.5 and 10 km. Antennas are installed 15-100 meters above the earth.
There are three main versions of antenna locations: a) on the perimeter of building roofs; b) on roof-top superstructures or additionally erected towers; c) on separately erected towers.
Microcells are used to fill-in and improve the main network, especially where the demand is high. Such places are airports, railway stations and shopping malls. Their number is rapidly increasing in parallel with the growth in demand for mobile phones. The range of microcell base stations is a few hundred meters. Microcell radio antennas are located on building façades, transmission-line poles and lamp-posts or billboards, some 4 or 5 meters above the earth. The power output of radio antennas varies between 1 and 2 watts.
Picocell base station radio antennas have a lower power output than those of microcells (up to 1 watt) and are generally placed inside buildings.
It should be mentioned that the main demand to any radio base station is its compliance with sanitary norms, i.e. not exceeding the permissible electromagnetic field levels.
This is controlled and regulated by the State Supervision Agency of Sanitary Norms and Regulations at the Ministry of Labor, Public Health and Social Protection of Georgia, where the owners of radio and TV facilities (mobile communication companies included) undergo a standard procedure. This procedure consists of several stages: a) Submission of a project; b) Sanitary Examination of the project; c) Instrumental measurements in the trial period.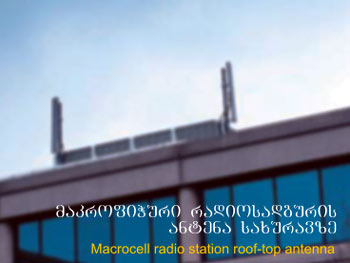 Special attention should be paid to the fact that the standards effective in Georgia are close to the CIS standards and much more strict than the corresponding documents of the European Union or the North American countries. In particular, the maximum acceptable level of the intensity of the electromagnetic flux is 10 mW/cm², while the similar parameters in the European Union and North American countries are 400-500 mW/cm².
During the five years of its existence, MagtiCom has been trying its best to make any of its actions as transparent and comprehensible for the public as possible. Our Company is ready to collaborate with any agency or organization showing a business interest in the problems of cellular telecommunication. Our relationship with the Ministry of Environment and Natural Resources of Georgia is the proof of such readiness. It was under MagtiCom's commission and direct initiative that the Project of Mobile Telecommunications Network was sent to the State Environmental Examination of the Ministry. The examination confirmed full compliance of the parameters of electromagnetic fields to the norms effective in Georgia.
It should be mentioned that the data of MagtiCom's cellular network are annually sent to the State Supervision Agency of Sanitary Norms and Regulations at the Ministry of Labor, Public Health and Social Protection of Georgia.
Similar documents are submitted to the Ministry of Environment and Natural Resources of Georgia as the alternative control body.
Finally, we would like to express our desire and readiness to continue our close contacts with the readers of our magazine, MagtiCom subscribers, all interested persons and the general public to clarify the issues of the safety of mobile telecommunications network. Please write us to the following address: 5 Jikia St., Tbilisi, 380086 or leave your letters addressed to the Environmental and Sanitary Control Service at our offices.
Koba Miresashvili
Chief of Environmental
and Sanitary Control Service
MagtiCom