umlaut, the global consultancy company and world leader in mobile network testing and benchmarking recognizes Magticom network as the "Best in Test" in Georgia
16 / February / 2021
"Best in Test" – that is how MagtiCom is evaluated by the independent global company, the leader in mobile network testing and benchmarking - umlaut.
The independent testing of Georgia's mobile networks carried out by umlaut once again confirmed that MagtiCom has the best network in test in the country.
"Best in Test" - Certificate was awarded to MagtiCom on February 12, 2021.
MagtiCom's network recognition as the best is based on a nationwide test conducted by umlaut independently form MagtiCom in December 2020. Specifically, the study area included large cities and regions of Georgia, as well as highways and connecting roads.
umlaut has tested and measured the performance of MagtiCom voice and data services with respect to LTE/UMTS/GSM mobile radio network.
umlaut has measured the network according to 3 main service categories:
Voice - Voice service (measured call setup and call quality)
Data - mobile data service (data transfer speed and quality)
crowdsourced quality - Evaluated feedback on network quality and data from various applications.
MagtiCom is the leading network in the country according to all three service categories, with the best data service and the highest data rates, as well as the best voice service.
Hakan Ekmen, CEO Telecommunication at umlaut: "Congratulations to MagtiCom for best user experience in Georgia. On top MagtiCom is leading in all categories and shows the best data, voice and crowdsourced quality. This is remarkable in these challenging COVID-19 times!"
See umlaut survey data and evaluation of mobile networks in Georgia.
umlaut is a global, full-service, cross-industry, end-to-end company that offers advisory and fulfilment services to clients all over the world. In-depth domain expertise, broad practical knowledge and interdisciplinary collaboration allow them to add value, quality and focus to their clients' organisations, services and products, in disruptive times in which industries are increasingly converging.
Within an able and agile collective of 20 consultancies and engineering firms spread across 50 locations all over the world, 4,300 specialised experts and engineers provide innovative solutions and transformations across all industries and their various intersections as well as serving the public sector and developing organisational cultures, structures and processes.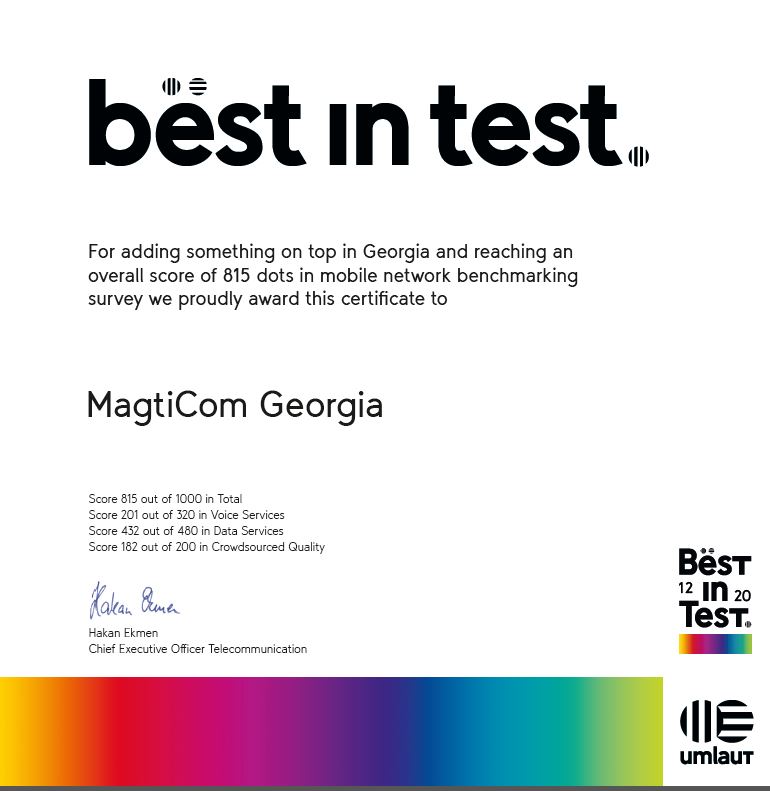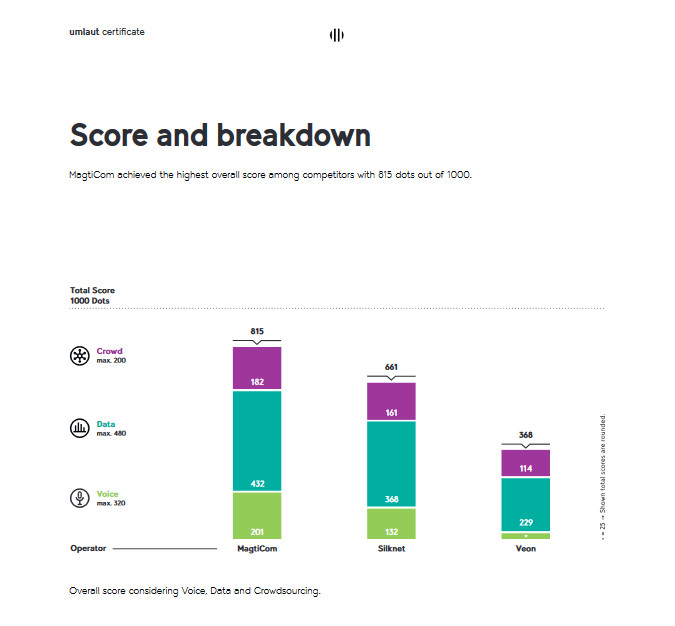 See certificate below