George Balanchine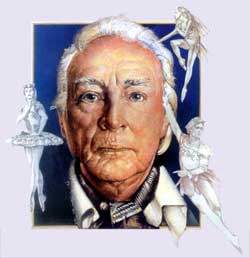 He was born in 1904, and lived for nearly the entire 20th century.
De Gaulle awarded him the Legion of Honour. In Washington, near the White House, his statue stands next to sculptures of other luminaries. Rockefeller presented him with a palace and Stalin sent him the following message: "Come back to perform your duties." He knew and befriended many a great musician, artist and writer of the century. He hated football and worshipped wine as truth itself.
This was George Balanchine.
Balanchine was born in Petersburg to the family of a prominent composer and public figure Meliton Balanchivadze, considered to be the father of Georgian opera music, who then lived and worked in Russia.
Two years later, his younger brother Andria Balanchivadze was born. Andria later became a famous composer and musician.
Today, Meliton and Andrea Balanchivadze are acknowledged as the classics of Georgian composing school, and George, to be that of American Ballet.
Meliton Balanchivadze remained in Russia for 28 years, first studying singing at Petersburg Conservatory. Later, on the advice of Director Rubinstein of the Conservatory, he attended classes in composition and harmony under the great Russian composer Rimski-Korsakov. After the graduation, he remained in Petersburg, popularising and promoting Georgian music and arts in general. Here he wrote his famous opera "Tamar, the Shrewd".
Giorgi Balanchivadze studied at Petersburg Conservatory as well. He attended classes on the music theory, composition, and piano. He also successfully completed the Marius Petipa ballet class in the musical college at Petrograd's Mariam Theatre. He thus combined his Georgian identity, Russian classical tradition, desire for understanding, and an irrepressible will to express himself.
"Ballet is my life. I cannot think about anything else," he would say.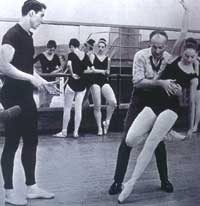 Petrogradskaya Pravda newspaper carried the following review of his public debut on the evening of his graduation: "Giorgi Balanchivadze demonstrated dazzling skill in dancing a technically complex lekuri." This was on May 26, 1921, which also happened to be the Georgian Independence Day. Giorgi Balanchivadze danced lekuri then, and perhaps not by chance.
Later, the paths of the Balanchivadzes parted. Giorgi went to Paris and became known as Balanchine. One year later he became chief choreographer of Sergei Dyagilev's Ballets Russes. Following Dyagilev's death in 1929, George worked in Paris, Copenhagen, and London. The European capitals, however, did not take a serious interest in Balanchine's work. In that period, he became seriously ill for some time, even to the point of hopelessness. The press described him as a failed outsider, and only Balanchine knew that he must not abandon the stage. He wrote, "I have learned the dance, movement and suddenly I wanted to make others dance and move."
At the age of 29 he went on to discover America. In New York, he founded a ballet school, which later evolved into the New York City Ballet. The first performance was mounted in short three months. Balanchine would continue to begin work on a given production three months before the premiere. He believed that he had only one chance to leave the right first impression.
In 1934, a thirty-year-old Balanchine offered Europe an entirely new type of art from the United States. It was a production of Tchaikovsky's Serenade, breaking all stereotypes. Although Serenade was a 'white ballet,' it had little in common with white ballet of the nineteenth century. Ballet was not divided into music and dance. Music was not merely background for the dance. It was a cohesive whole, like the universe itself. Music was transformed into a force able to bring order to chaos.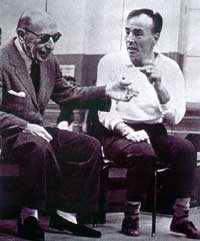 The American audience is perhaps more open to breaking stereotypes than any other audience. But Serenade took even Americans by surprise. What has the avant- garde to do with Tchaikovsky? The two were thought to be incompatible. Yet Balanchine undeniably contrived to give his music a modern touch. Serenade was Balanchine's first production in New York. It was followed by 148 ballet performances on the New York Ballet stage. Balanchine also worked in cinematography, television, the musical theatre, on Broadway, and with different opera companies. The American press wrote "The American ballet owes the unity of dance and musical rhythm, and the harmony of visual and auditory impressions to the creative genius of the great George Balanchine."
It is perhaps symbolic that the rehearsals of Serenade were held in the same hall where Isadora Duncan used to rehearse. Balanchine, however, did not like Duncan - she was too fleshy for him, with a slack silhouette, broad hips, naked shoulders and limbs. Balanchine created an entirely different image of the dancer - tight as a steel string, an almost bodyless and weightless figure, ephemeral more than real. Dance was for him a feminine entity. His ballerinas had long legs, thin bones, a high chest, a small head and a strong back.
Balanchine created an associative ballet without dramatic plot. This was particularly paradoxical in a country where mass culture reigned. A country which was accustomed to the dazzling brightness of its stars, more than the idea that art and American soul should be somehow achieved, rather than perceived. Like life, ballet has no plot although Balanchine always managed to imbue his production with one - suggested however, more by the music than literature. Balanchine created an essentially new type of ballet. He brought together all genres, old and modern. He fully exploited three-dimensional space and enriched the performance with dynamism and expression. A new type of production, bold decor, avant-garde costumes, elaborate technical skill defined his unique style. His art was simple. His choreography contained no false and artificial movement, as Balanchine believed that movement must be as precise as sound is pure.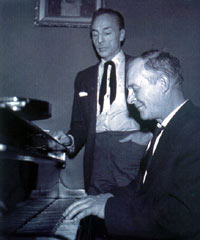 Balanchine knew his worth but he never behaved arrogantly. He always stressed that he led a company whose performances required inspiration but intensive rehearsal, mastery and hard work. He called himself a carpenter and jokingly referred to his dancers as racehorses. Balanchine tried to be democratic in everything. Even tickets to his concerts cost two dollars. Dancers worshiped him and lovingly called him Mister B. He was not indifferent to women. He was married five times to beautiful ballerinas.
Though the world knew him as an American of Russian extraction, Mister B. was Georgian. He came to Georgia twice as an older man. Lia Machutadze, scriptwriter of the documentary film about the Balanchivadzes recalls, "When Andria Balanchivadze saw his brother on the ramp, he said I feel as if we have been going toward each other despite the distance between us."
The life and artistic fate of his younger brother, a brilliant Georgian composer, Andria Balanchivadze prompts us to ask if Balanchine would have ever gained his international audience had he lived in Georgia.
Time Magazine, in an essay dedicated to prominent personalities of the 20th century said, "Although Balanchine himself "embroidered" his own unique neoclassical style of ballet, he conducted experiments in all genres, mounting Russian classics and contemporary works. He tried his hand at everything, from abstract avant-garde to Japanese ball dances. He left a legacy of majestically beautiful dances that carry in them features of the future ballet repertoire. The comparison suggested by the title of one of his productions Midsummer Night's Dream naturally comes to mind - Balanchine is the Shakespeare of the Ballet."
TAMAR BELKANIA