The Georgian Murats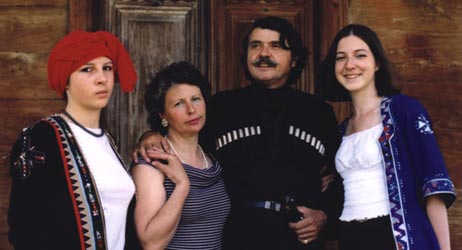 Before meeting Prince Alain Murat and his spouse Princess Veronique I was, involuntarily, prepared for ceremonies. One can hardly imagine something simple and ordinary when you hear the words "prince" and "princess". The scenes from French historical movies of the seventies flashed before my eyes, with men taking off their hats upon greeting, with wavy gestures of their hands and artistic movements accompanied by matching movements of their legs and women dropping curtseys.
My preconceptions proved to be wrong and, to my astonishment, a middle-aged lady of typically European appearance and a very European looking gentleman with long moustaches opened the door. Surprisingly, the expression of their faces was not haughty but cordial. With a typically European smile they invited us in. Having passed through a short corridor, we found ourselves in a sitting room with walls covered with old photographs, pictures and reproductions…
If you have never heard anything about the Murat family you might have heard with half an ear something about Napoleon's brother-in-law and his right hand, an important marshal, a king of Naples and two Sicilies - Joachim Murat. This is what the Emperor wrote about him: "…He was my right hand… he was a real knight on the battle-field… No other general in the world can lead the cavalry better than Murat." Joachim Murat, who started his military career as an ordinary soldier, became close to Bonaparte during various battles and married his sister Caroline.
The son of this legendary marshal, Achille Murat, happened to be a young army officer of Napoleon III, who in 1868 married in Paris Salome Dadiani, the daughter of the last ruler of Samegrelo, David Dadiani, and Queen Ekaterine Chavchavadze.
Having exchanged a few pleasantries, an awkward silence fell in the room as often happens when people meet for the first time. Inadvertently, I started studying my hosts. The prince looked a typical Frenchman, his long moustaches giving him a very special air. There was some kind of Georgian spark in him as well. He even slightly resembled a Georgian prince of the XIX century. The princess' appearance was very European, such that you would single her out in a crowd of thousands...
This was a political marriage. Princess Veronique ordered that France gain influence in the Black Sea and Caucasus region. The marriage of Achille Murat and Salome Dadiani created favourable conditions to achieve this objective.
The newly married couple traveled to Algeria where France was waging an aggressive war.
After the collapse of the second Empire, Achille Murat accompanied Napoleon III to England but, being demobilized very soon, went back to France from where he departed to Georgia along with his wife and children. As per Salome's will, he had inherited two palaces there: Salkhino and Chkaduashi. In Zugdidi they built a French-style small palace, which, unfortunately, was burnt to ashes by a fire in 1894, just several months prior to Achille's death.
Salome and Achille had three children two sons and a daughter. Lucien was born in Algeria, Napoleon in Paris and Antoinette in Zugdidi…
The "contemporary" Murats - Prince Alain and Princess Veronique first came to Georgia in the nineties, after the civil war. "We heard on the radio that the Dadiani palace in Zugdidi was under siege and was in danger. At that time our only desire was to come here and defend our ancestors' abode. Here, and particularly, in Samegrelo we received an extremely warm welcome. Everyone kept telling us: "We have been waiting for you, we knew you would come!"
…Lucien Murat married after his father had passed away. This was also a marriage of convenience. Lucien's spouse, Countess de Rohan Chabot was the daughter of one of the most influential men in France of that time.
Lucien's wife was an intellectual, gifted painter and a great many artists convened in her Parisian saloon.
In 1898 a son, Achille, was born to Lucien and Countess de Rohan Chabot but, from our perspective, this was not a happy couple. Very shortly after the birth of his son, Lucien took the young prince to Samegrelo, where he brought him up alone. It was only once, in 1904, that Countess de Rohan Chabot, accompanied by her mother, came to see her son but she went back to Paris very soon. It is interesting that Lucien's mother-in-law, Duchess Verteillac, enriched with the impressions of her trip to the Caucasus, and particularly to Samegrelo, has written a fairly interesting book.

Lucien's younger brother, Napoleon, lost his both legs in the Russo-Japanese war and returned to Samegrelo a cripple. Later he emigrated from there together with his sister Antoinette …
In 1917 Achille Murat, being a draftee, traveled to France for his military service. He was one of the first pilots of the French army and later, due to well-known reasons, was unable to go back to Georgia.
"My father-in-law often used to recall that extraordinary, fabulous country where he was raised and spent his childhood," princess Veronique was saying. "When I found myself in Zugdidi for the first time, I was obsessed by the feeling that I had known this house, its yard with a garden and all of the surroundings very well. It was as if I had played and run on the verandas of this house myself, as if I had thrown walnuts into the priest's censer which "exploded" during a service and as if I had gone hunting a bear at the age of twelve. Perhaps that is why today in France this branch of Murats is being referred to as "the Georgian Murats" and this fills us with pride. A few minutes before his death, my father-in-law hummed a Megrelian "Nana" (lullaby) and when a surprised nurse asked which song it was, he replied with tears in his eyes: "a Megrelian song!"

In 1923 Achille married Mademoiselle Magdeline de Chasseloup Laubat and she bore him nine children. Prince Alain was their ninth and last son…
Princess Veronique is a historian by profession. She used to work as a teacher in various higher educational institutions of France. Prince Alain headed one of the ethnographic museums. As soon as the opportunity emerged and as they themselves had said: "it was by Providence and the will of God" that they left everything and returned to their ancestors' hearth. They brought their family treasure along and kept all of it in the newly acquired house in Zugdidi. Unfortunately, echoing events of the XIX century, on November 15 of 2000 almost everything was destroyed by fire…
Prince Alain and Princess Veronique have five children. From their first marriages the princess had two sons and a daughter and the prince had a daughter, Annonciade, who was a graduate of the Sorbonne philosophy faculty. She intends to pursue the study of political sciences.
The Murats' youngest daughter, Matilde, which is the same name as Mariam, came to Georgia at the age of ten and as the Murats often say jokingly: "even her dreams were Georgian." She acquired her secondary education at Zugdidi school #11 and is preparing to continue her studies at the horticultural faculty of Sorbonne University. This profession will enable the young princess, who is willing to live in Georgia and who worships Georgian traditions, to restore and return to the Dadiani palace and garden their original outlook.
This year, after the tragedy of the year 2000, the Dadianis have regained their strength and effort and have established a fund "The Murats in Georgia." "Today we are curing the result and not the reason that has brought about this result," the prince said. "Therefore, our aim is very specific: we wish to establish contacts with similar museums in France and transfer their experience and contemporary working skills and methods to Georgia."
P. S.
Princess Veronique is a descendant of two of the most outstanding families of France: de Chabot and the Tramecourt. Unfortunately, the brief scope of this article does not allow us to say more about her forebears: the kings of Jerusalem, Sicily, Constantinople, one of the popes of Rome and other historic figures. We do hope that we will have such an opportunity in the future…